Family Owned and Operated Since 2004.
Pure Water Station is a family owned business, and has been in business since April 2004. It is owned by Alan & Judith Chase. Our goal is to provide our customers with personalized service, the best purified water by reverse osmosis around (purified on-site), and a variety of bottles and other water accessories.
We also offer natural, organic and aromatherapy products, supplements, gluten free products and a whole lot more. If we do not have what you are looking for, please ask one of our sales staff if it is a product we can purchase for you.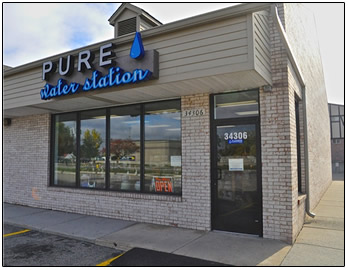 My family and I have been coming to Pure Water Station for about 6 years now. The staff is very professional, friendly, and goes above and beyond to answer all of your questions. Highly recommended.

Bruce H. – CLINTON TOWNSHIP, MI
Judy and Al are fantastic. Their prices are very affordable, they are very down to earth, and my kids love coming with me to play in the kids corner (and the snacks they get from the owners lol). If there is a healthy product they don't carry, all I have to do is ask and they will either order it or direct me to where I can get it from. Much more than a water store!

Tina V. ROSEVILLE, MI